The CounterChecker will target content found on the following web sites. Initial priority will be American  partisan political issues. We will engage with the following sources in the first iteration of the app as we begin operations.

AFP – Based in France but covers American and global politics in English. Includes four journalists based in Washiongton, D.C.. Launched in 2017.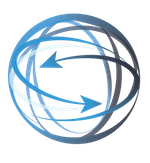 Climate Feedback – covering journalism in any medium, providing its own panel of credentialed scientists. Its stated goal is to let readers know which sources to trust.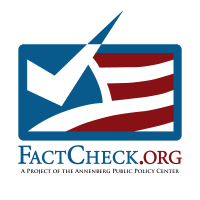 FactCheck.org, – fact checking political journalism, funded by the Annenberg Foundation in Pennsylvania since 2005.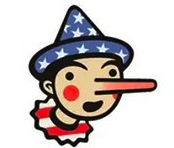 Fact Checker – offering up to four Pinocchios since 2007, a project of the Washington Post.

  Media Bias / Fact Check – focusing more on political bias according to a spectrum and also attempting to determine accuracy since 2015.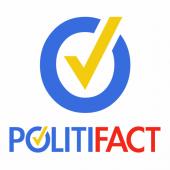 PolitiFact – offering its "Truth-o-meter" since 2007. A product of the Tampa Bay Times.

RealClear Politics – offering bias scales
Other Tools and Targets

Our.News is an example of a useful tool for searching for fact checks by key word. Our aim is to outdo Our.News with our own search tool within our own database as we provide a platform for fact checking the fact checkers. We will improve with age. Our goal is to be the definitive fact checking source for all media. Our methodology will gradually accomplish this for us.
There are currently over 300 fact checking organizations worldwide. The number is rapidly increasing. All must be counter-checked.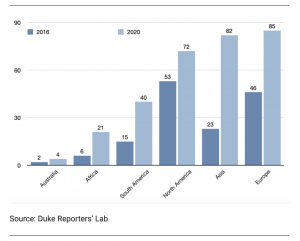 As per the Duke Reporters' study, the year over year rise in organizations dedicated to fact checking is significant. Most of the growth has been outside of the U.S. Much of it is local. Source: https://reporterslab.org/fact-checking-count-tops-300-for-the-first-time/
Competitive Analysis
What sets the CounterChecker app apart is accountability. It is one thing for fact checking organizations to claim that they are independent. It is another to prove that they are truly independent by subjecting themselves to counterchecks. The CounterChecker app will be the first app to offer this type of accountability.
RealClear Politics and Media Bias/Fact Check both claim to "fact check the fact checkers." They accomplish this through their in-house research. As such, their findings are subject to dispute. The notion that RealClear Politics fact checks are somehow in the "center" and the other fact checkers lean left is enforced through the claims of Media Bias/Fact Check. Are they right? Our position is that ideological bias is difficult to self-detect.  We would rather see opposing teams, who don't pretend to be unbiased, present their cases against one another without limits.
The result will be a more detailed view for anyone checking facts using the CounterChecker app.  Presently, those checking facts by searching through these organizations' fact checks receive a quick and easy judgement. The picture is often incomplete. Many users are only interested in a number of Pinocchios or the results of a Truth-o-Meter. While the results may be entirely fair and accurate, the basis for these determinations is not necessarily fair and sound.
The purpose of fact checking is to prevent the rapid dissemination of misinformation inherent in social media. If fact checks themselves are not accountable, they can lend authority to misinformation. Whether this happens often or not, the CounterChecker app will provide the accountability that prevents it from happening. This is why it will gradually become the world's authority on fact checking, while lending credence to existing fact checks, if they pass our tests. Authority would then exist only where it is deserved.