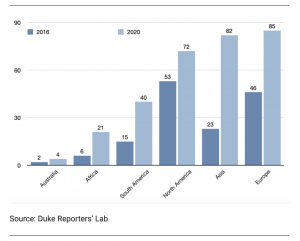 According to Duke Reporters, the number of Fact Checking organizations worldwide has increased by more than 100 in the past four years. In late 2016 and early 2017, Facebook started utilizing the Poynter Institute's International Fact Checker Network's vetting process to select independent fact checking organizations to respond to its content. Since then it has been flagging over 2,000 articles per day on average. Much of the work is accomplished through artificial intelligence. As with many things AI, the process is improving over time. 
There is a significant backlash over this – particularly among conservatives, who believe the majority of fact checking organizations, including those used by Facebook, are biased. Much of their fact checking is derided as mere opinion and analysis. Here we will list a few related articles, expressing these opinions, some of them a bit dated but still relevant.
The CounterChecker app will be a useful tool for countering bias and keeping fact checking organizations accountable because it will allow those who challenge the assertions of fact checkers to make their case through dialog. Our expectation is that the introduction of our dialog and team debate format will slow down the volume of partisan assertions made, making truth something much more ascertainable, not through any one organization, but through the process itself, which lets the reader see every side of every issue.
Articles – (this is not an endorsement of ideas so much as a pulse indicator)
The Hill – Joe Concha 9/30/16: Poll: Voters Don't Trust Media Fact Checkers
The Hill is a conservative publication. 
Rasmussen – Amy Holmes 9/30/16: Poll: Voters Don't Trust Media Fact Checking
The polling source of The Hill article by Joe Concha same date.
Capital Research Center  – Barbara Joanna Lucas 3/10/17: Dishonest Fact-Checkers
A common impression among the starboard leaning. Targets Politifact and FactCheck.org specifically.
The Heritage Foundation – Edwin J. Fuelner PhD 7/11/18: The Facts About Fact-Checkers
A typical conservative perspective offering some examples of abuse of the title.
Poynter – Daniel Funke 7/20/18: Fact-Checkers have debunked this fake news site 80 times. It's still publishing on Facebook.
Demonstrates the dismay of mainline journalism at the persistence of fake news on social platforms.
Poynter – 2018 Form 990
Gives an idea of the income and expenses of the leading Non-Profit in Journalism in the U.S. 
Columbia Journalism Review – Emily Bell Fall 2019: The Fact-Check Industry
Aptly named. This is a good summary that traces philanthropy associated with fact-checking and the departure of fact-checking from media outlets, and shows some remuneration figures from Facebook.
Nieman Lab –  Laura Hazard Owen 7/29/19: Full Fact has been fact-checking Facebook posts for six months. Here's what they think needs to change
Gives some hints as to how much Facebook is paying fact checkers and what researchers are demanding. Facebook paid Full Fact an average of $1,790 per fact check for 96 fact checks over six months.
American Council on Science and Health – Alex Berezow, PhD 11/4/19: Debunkers Debunked: Who Fact Checks the Fact Checkers?
Provides some more examples.
The Daily Signal (RealClear Investigations) – Sherryl Attkisson 8/10/20: Investigating the Prevelance of Left-Leaning 'Fact-Checkers'
Enumerates a number of conflicts of interest, non-transparencies and inconsistencies.
The Buffalo News Real Clear Roundup – Mark Hemingway 9/10/20 updated 9/16/20: No, Trump Hasn't Made 20,000 False or Misleading Claims
Gives some examples of how the Washington Post Fact Check puffs up its numbers against Trump.
Washington Post Fact Checker – Glen Kessler, Salvador Rizzo, Meg Kelly 1/24/21: Trump's false or misleading claims total 30,573 over 4 years
Demonstrates possible bias and serves as a source to cross-check Hemingway's RealClear Roundup with (see above). 
Politifact – Last Updated February 21: Who Pays for Politifact?
Breakdown of Politifact's revenue sources since 2010
Do not be dismayed. The CounterChecker is coming!